Doppelherz aktiv KINDER Multivitamin Syrup
glutenfree
lactosefree
KINDER Multivitamin Syrup
with L-Lysine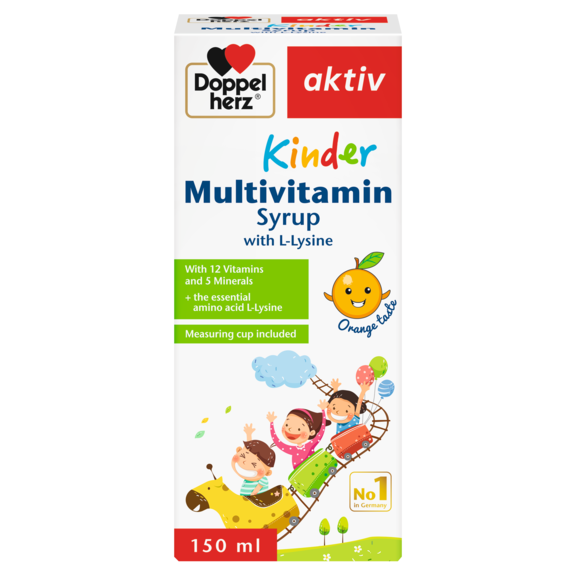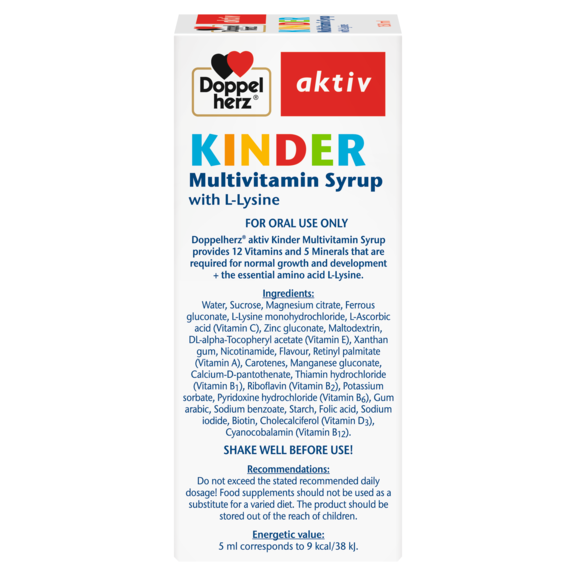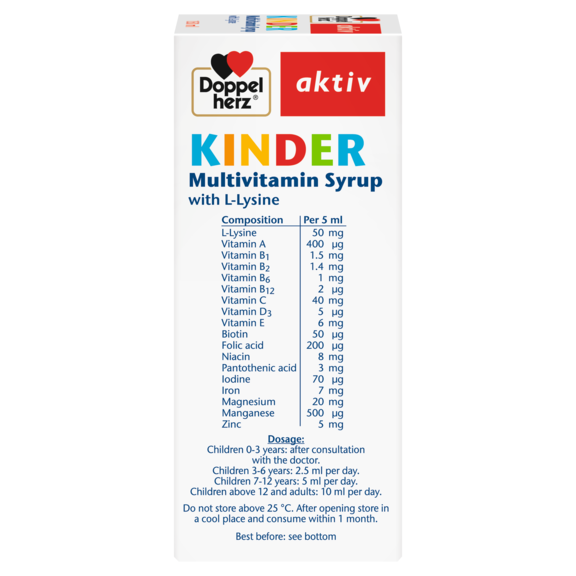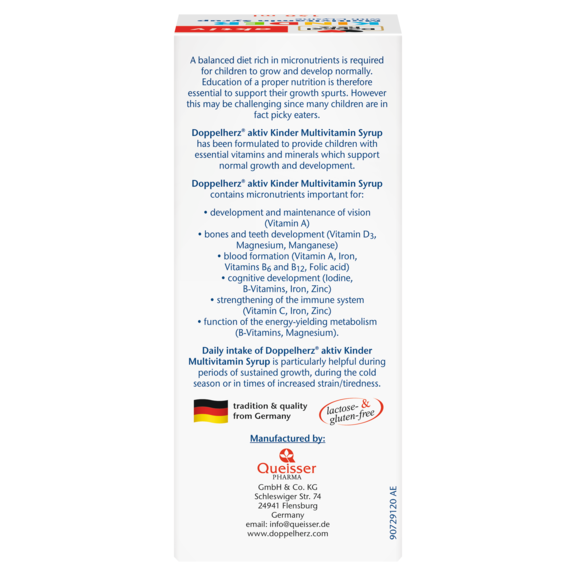 ---
With 12 Vitamins and 5 Minerals
With the essential amino acid L-Lysine
With the taste of orange
 
glutenfree
lactosefree
---
A balanced diet rich in micronutrients is required for children to grow and develop normally
Education of a proper nutrition is therefore essential to support their growth spurts. However this may be challenging since many children are in fact picky eaters.
Doppelherz® aktiv Kinder Multivitamin Syrup has been formulated to provide children with essential vitamins and minerals which support normal growth and development.
Doppelherz® aktiv Kinder Multivitamin Syrup contains micronutrients important for:
development and maintenance of vision (Vitamin A)
bones and teeth development (Vitamin D3, Magnesium and Manganese)
blood formation (Vitamin A, Iron, Vitamin B6 and Vitamin B12, Folic acid)
cognitive development (Iodine, B-Vitamins, Iron, Zinc)
strengthening of the immune system (Vitamin C, Iron, Zinc)
function of the energy-yielding metabolism (B-Vitamins, Magnesium)
Daily intake of Doppelherz® aktiv Kinder Multivitamin Syrup is particularly helpful during periods of sustained growth, during the cold season or in times of increased strain/tiredness.
Consumption recommendation
Children 0-3 years: after consultation with the doctor.
Children 3-6 years: 2.5 ml per day.
Children 7-12 years: 5 ml per day.
Children above 12 and adults: 10 ml per day.
Note
Do not exceed the stated recommended daily dosage! Food supplements should not be used as a substitute for a varied diet. The product should be stored out of the reach of children.

Do not store above 25 °C. After opening store in a cool place and consume within 10 weeks.

5 ml corresponds to 9 kcal/38 kJ.
Ingredients
Water, Sucrose, Magnesium citrate, Ferrous gluconate, L-Lysine hydrochloride, L-Ascorbic acid (Vitamin C), Zinc gluconate, Pteroylmonoglutamic acid (Folic acid), DL-alpha-tocopheryl acetate (Vitamin E), Xanthan gum, Nicotinamide, Flavouring, Retinyl palmitate (Vitamin A), D-Biotin, Manganese gluconate, Calcium-D-pantothenate, Cyanocobalamin (Vitamin B12), Cholecalciferol (Vitamin D3), Thiamin hydrochloride (Vitamin B1), Riboflavin (Vitamin B2), Potassium sorbate, Pyridoxine hydrochloride (Vitamin B6), Sodium benzoate, Sodium iodide, Carotenes
Reviews
No ratings have been submitted yet. Submit your first review here.