Doppelherz aktiv Magnesium
lactosefree
glutenfree
Magnesium
+ Calcium + D3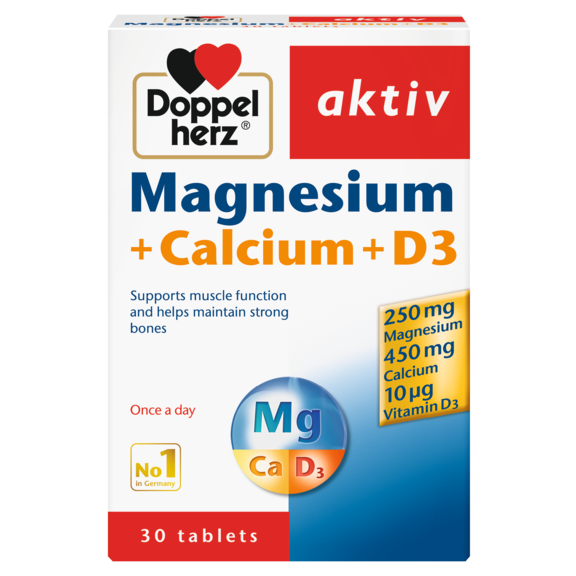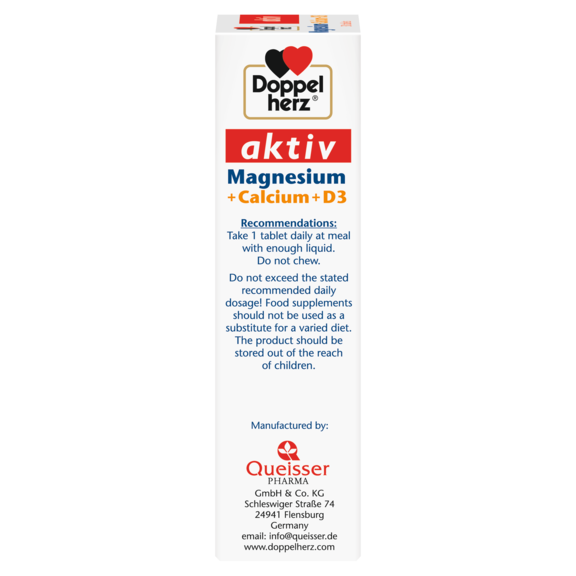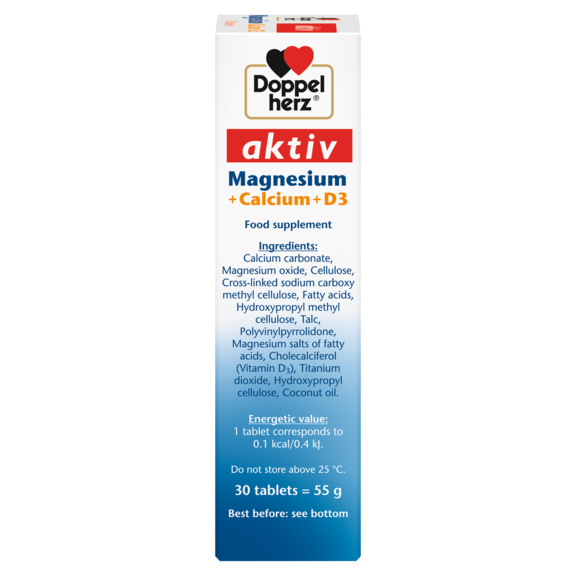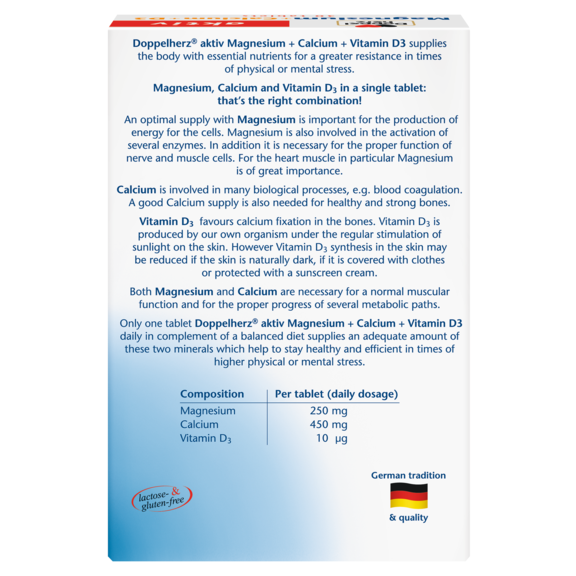 ---
Supports muscle function and helps maintain strong bones
Tablets with Magnesium, Calcium and Vitamin D3
Supplies the body with essential nutrients for a greater resistance in times of physical or mental stress
lactosefree
glutenfree
---
Doppelherz® aktiv Magnesium + Calcium + Vitamin D3 supplies the body with essential nutrients for a greater resistance in times of physical or mental stress
Magnesium, Calcium and Vitamin D3 in a single tablet: that's the right combination!
An optimal supply with Magnesium is important for the production of energy for the cells. Magnesium is also involved in the activation of several enzymes. In addition it is necessary for the proper function of nerve and muscle cells. For the heart muscle in particular Magnesium is of great importance.
Calcium is involved in many biological processes, e.g. blood coagulation. A good Calcium supply is also needed for healthy and strong bones.
Vitamin D3 favours calcium fixation in the bones. Vitamin D3 is produced by our own organism under the regular stimulation of sunlight on the skin. However Vitamin D3 synthesis in the skin may be reduced if the skin is naturally dark, if it is covered with clothes or protected with a sunscreen cream.
Both Magnesium and Calcium are necessary for a normal muscular function and for the proper progress of several metabolic paths.
Only one tablet of Doppelherz® aktiv Magnesium + Calcium + Vitamin D3 daily in complement of a balanced diet supplies an adequate amount of these two minerals which help to stay healthy and efficient in times of higher physical or mental stress.
Composition
| Ingredients | per tablet |
| --- | --- |
| Magnesium | 250 mg |
| Calcium | 450 mg |
| Vitamin D3 | 10 µg |
Consumption recommendation
Take one tablet daily at meal with enough liquid. Do not chew.
Note
Do not exceed the recommended daily dosage! Food supplements should not be used as a substitute for a varied diet. The product should be stored out of the reach of children.

Do not store above 25 °C.

1 tablet corresponds to 0.1 kcal/0.4 kJ.
Ingredients
Calcium carbonate, Magnesium oxide, Cellulose, Cross-linked sodium carboxy methyl cellulose, Fatty acids, Hydroxypropyl methyl cellulose, Talc, Polyvinylpyrrolidone, Magnesium salts of fatty acids, Cholecalciferol (Vitamin D3), Titanium dioxide, Hydroxypropyl cellulose, Coconut oil.
Reviews
No ratings have been submitted yet. Submit your first review here.