Doppelherz aktiv Vital Materna PLUS
lactosefree
glutenfree
Vital Materna PLUS
Advanced formula to support conception, pregnancy and breastfeeding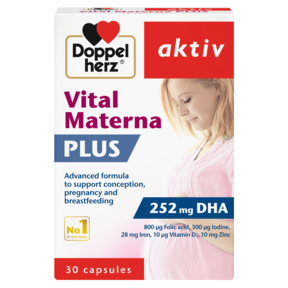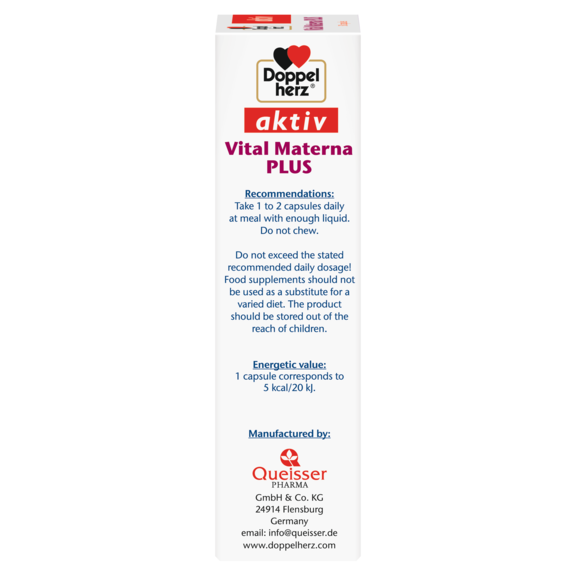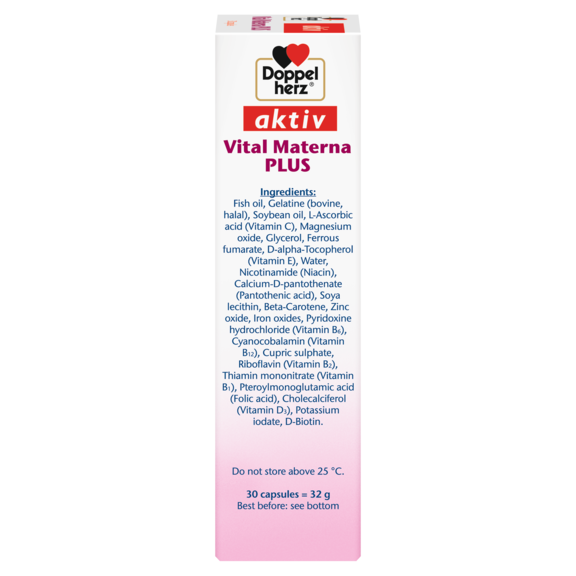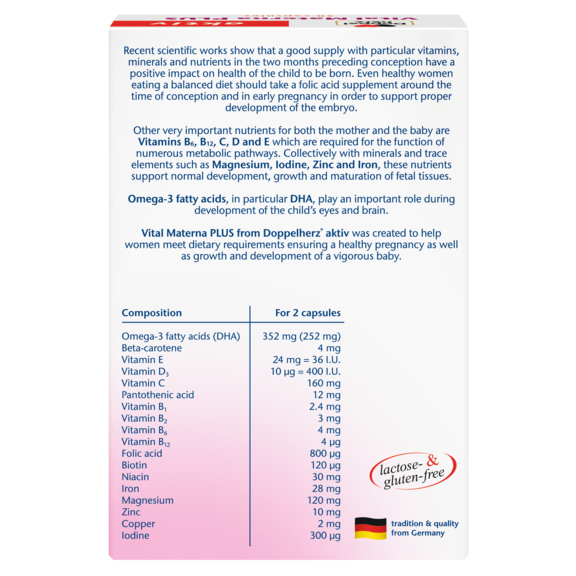 ---
800 µg Folic acid, 300 µg Iodine, 28 mg Iron, 10 µg Vitamin D3 and 10 mg Zinc
Helps women meet dietary requirements ensuring a healthy pregnancy
Helps ensuring growth and development of a vigorous baby
 
lactosefree
glutenfree
---
Recent scientific works show that a good supply with particular vitamins, minerals and nutrients in the two months preceding conception have a positive impact on health of the child to be born.
Even healthy women eating a balanced diet should take a folic acid supplement around the time of conception and in early pregnancy in order to support proper development of the embryo.
Other very important nutrients for both the mother and the baby are Vitamins B6, B12, C, D and E which are required for the function of numerous metabolic pathways. Collectively with minerals and trace elements such as Magnesium, Iodine, Zinc and Iron, these nutrients support normal development, growth and maturation of fetal tissues.
Omega-3 fatty acids, in particular DHA, play an important role during development of the child's eyes and brain.
Vital Materna PLUS from Doppelherz® aktiv was created to help women meet dietary requirements ensuring a healthy pregnancy as well as growth and development of a vigorous baby.
Composition
| Composition | per 2 capsules |
| --- | --- |
| Docosahexaenoic acid (DHA) | 252 mg |
| Beta-Carotene | 4 mg |
| Vitamin E | 24 mg |
| Vitamin D3 | 10 μg |
| Pantothenic acid | 12 mg |
| Vitamin B1 | 2,4 mg |
| Vitamin B2 | 3 mg |
| Vitamin B6 | 4 mg |
| Vitamin B12 | 4 μg |
| Folic acid | 800 μg |
| Biotin | 120 μg |
| Niacin | 30 mg |
| Iron | 28 mg |
| Magnesium | 120 mg |
| Zinc | 10 mg |
| Copper | 2 mg |
| Iodine | 300 μg |
Consumption recommendation
Take 1 to 2 capsules daily at meal with enough liquid. Do not chew.
Note
Do not exceed the stated recommended daily dosage! Food supplements should not be used as a substitute for a
varied diet. The product should be stored out of the reach of children.

1 capsule corresponds to 5 kcal/20 kJ.
Ingredients
Fish oil, Gelatine (bovine, halal), Soybean oil, L-Ascorbic acid (Vitamin C), Magnesium oxide, Glycerol, Ferrous fumarate, D-alpha-Tocopherol (Vitamin E), Water, Nicotinamide (Niacin), Calcium-D-pantothenate (Pantothenic acid), Soya lecithin, Beta-Carotene, Zinc oxide, Iron oxides, Pyridoxine hydrochloride (Vitamin B6), Cyanocobalamin (Vitamin B12), Cupric sulphate, Riboflavin (Vitamin B2), Thiamin mononitrate (Vitamin B1), Pteroylmonoglutamic acid (Folic acid), Cholecalciferol (Vitamin D3), Potassium iodate, D-Biotin.
Reviews
No ratings have been submitted yet. Submit your first review here.