Doppelherz aktiv Zincodin
lactosefree
glutenfree
Zincodin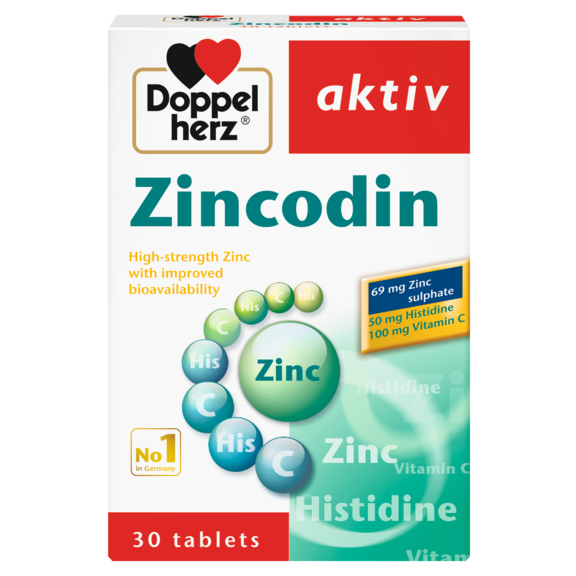 ---
High-strength Zinc with improved bioavailability
Tablets with Zinc sulphate, Histidine and Vitamin C
Zinc supports the function of the immune system

lactosefree
glutenfree
---
Doppelherz® aktiv Zincodin combines high-strength Zinc sulphate with the transport substance Histidine, an amino acid that improves Zinc absorption rate.
Doppelherz® aktiv Zincodin therefore allows faster replenishment of Zinc body stores.
Ensuring adequate levels of Zinc is one of the keys to remain healthy. Since it is required for the activity of more than 400 enzymes, Zinc is involved in essentially all major metabolic functions: it supports the function of the immune system, it contributes to normal vision, and it helps maintain healthy skin, hair and nails. Additionally, Zinc is important for bone metabolism, health of the reproductive system and fertility.
Doppelherz® aktiv Zincodin also contains Vitamin C which supports the effect of Zinc on the immune system. Both Vitamin C and Zinc act as antioxidants by neutralizing free radicals and therefore slow-down skin aging. Vitamin C also contributes to reduce tiredness and fatigue.
Doppelherz® aktiv Zincodin is ideal to cover the needs of children above 12 years of age, adults and the elderly.
Composition
| Ingredients | per tablet |
| --- | --- |
| Zinc | 25 mg |
| Histidine | 50 mg |
| Vitamin C | 100 mg |
Consumption recommendation
Take 1 tablet daily at meal with enough liquid. The tablets can be divided into two halves. Do not chew.
Note
Do not exceed the stated recommended daily dosage! Food supplements should not be used as a substitute for a varied diet. The product should be stored out of the reach of children
Ingredients
Calcium phosphate, Cellulose, L-Ascorbic acid (Vitamin C), Zinc sulphate, L-Histidine, Hydroxypropyl methyl cellulose, Fatty acids, Cross-linked sodium carboxy methyl cellulose, Magnesium salts of fatty acids, Titanium dioxide, Talc, Hydroxypropyl cellulose, Coconut oil, Iron oxide
Reviews
No ratings have been submitted yet. Submit your first review here.