Doppelherz system KOLLAGEN BEAUTY
glutenfree
lactosefree
KOLLAGEN BEAUTY
COLLAGEN PEPTIDES + AÇAI EXTRACT + BIOTIN + ZINC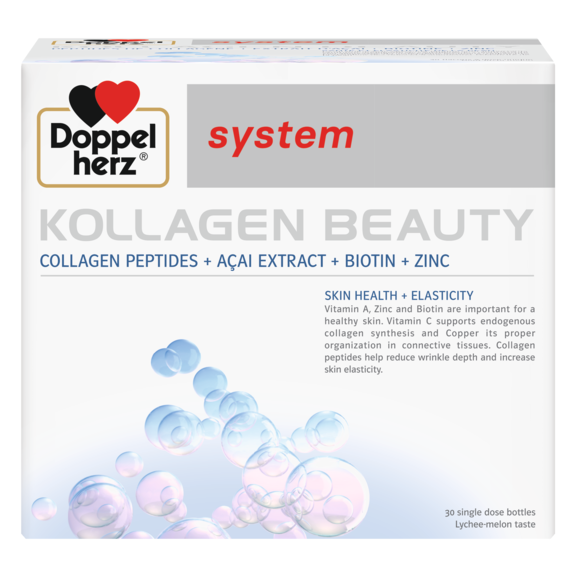 ---
Vitamin A, Zinc and Biotin are important for a healthy skin

30 single dose bottles

With Lychee-melon taste
glutenfree
lactosefree
---
SKIN HEALTH + ELASTICITY
Vitamin A, Zinc and Biotin are important for a healthy skin. Vitamin C supports endogenous collagen synthesis and Copper its proper organization in connective tissues. Collagen peptides help reduce wrinkle depth and increase skin elasticity.
Kollagen Beauty from Doppelherz® system contains a combination of nutrients that nourish the skin from within to make it smoother at sight and touch:
2.5 g Collagen peptides: they help to increase skin elasticity and at the same time to reduce wrinkle depth.
Vitamin C: it is required for the endogenous synthesis of collagen.
Vitamin E: together with Vitamin C it contributes to protect skin cells from oxidative stress.
Vitamin A, Biotin and Zinc help maintain a normal, healthy skin.
Copper plays an essential role in maintaining normal skin pigmentation and normal connective tissues.
Açai berry extract: these berries of the South American native palm tree are rich in polyphenols with antioxidant properties.
These constituents are supplied in form of a liquid with lychee-melon taste, filled in single-dose bottles for a convenient use, anywhere and anytime.
Composition
| Ingredients | per bottle |
| --- | --- |
| Collagen-Peptides | 2,5 g |
| Açai berries extract | 100 mg |
| Vitamin C | 80 mg |
| Zinc | 5 mg |
| Vitamin E | 3 mg |
| Beta-Carotene | 0,96 mg |
| Copper | 0,15 mg |
| Biotin | 150 µg |
Consumption recommendation
Drink the entire content of one bottle per day. Shake well before use! Do not keep opened bottles for later consumption.
Note
Do not exceed the stated recommended daily dosage! Food supplements should not be used as a substitute for a varied diet. The product should be stored out of the reach of children.
Do not store above 25 °C! Store in a cool, dark place.
Ingredients
Water, Pear juice, Collagen peptides (bovine, halal), Citric acid, Açai berry extract, L-ascorbic acid and Sodium-L-ascorbate (Vitamin C), Flavor, Xanthan gum, Sodium benzoate, Potassium sorbate, Zinc citrate, Sodium cyclamate, DL-alpha-tocopheryl acetate (Vitamin E), Sucralose, Sodium saccharin, Cupric gluconate, Beta-carotene, D-biotin.
Reviews
No ratings have been submitted yet. Submit your first review here.