Doppelherz system LIFTING COMPLEX
glutenfree
lactosefree
LIFTING COMPLEX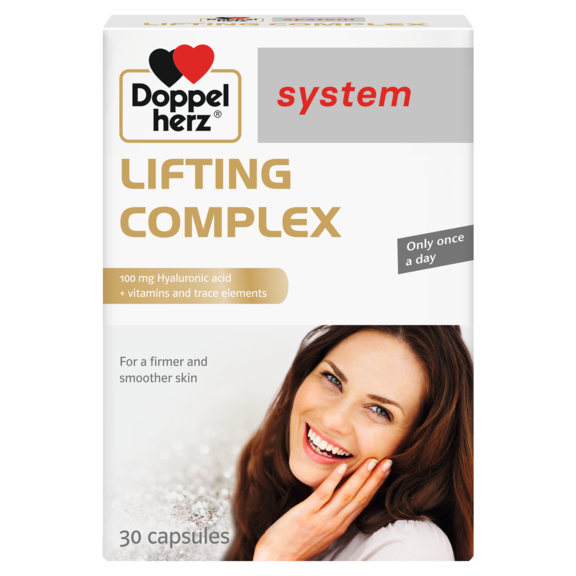 ---
100 mg Hyaluronic acid

+ vitamins and trace elements

For a firmer and smoother skin
glutenfree
lactosefree
---
With age, the skin loses its elasticity and its resistance because the synthesis of collagen and hyaluronic acid, two key constituents of the dermis, decreases.
Hyaluronic acid is particularly important for the structure of the dermis: by forming long polymers that fix a large amount of water, it contributes to a good hydration of the tissue.
This has a consequence on the appearance of the skin: the more hydrated the dermis, the shallower the wrinkles. The skin thus appears smoother to the sight and to the touch. This is why it is said that hyaluronic acid helps fill in wrinkles.
Doppelherz system Lifting Complex combines hyaluronic acid with vitamins and trace elements essential for healthy skin. These support the endogenous synthesis of collagen (vitamin C), cell renewal (zinc) and help to slow down the premature aging of the skin caused by free radicals (zinc, selenium, vitamins C and E). Beta-carotene, commonly called "provitamin A", is a good source of vitamin A for the skin. The biotin and vitamin A are both necessary to maintain healthy skin.
Composition
| Ingredients | per capsule |
| --- | --- |
| Hyaluronic acid | 100 mg |
| Vitamin C | 60 mg |
| Vitamin E | 20 mg |
| Vitamin A | 1670 µg |
| Pantothenic acid | 6 mg |
| Biotin | 150 µg |
| Zinc | 2,5 mg |
| Selenium | 15 µg |
Consumption recommendation
Take 1 capsule daily at meal with enough liquid. Do not chew.
Note
Do not exceed the stated recommended daily dosage! Food supplements should not be used as a substitute for a varied diet. The product should be stored out of the reach of children.
The product is not suitable for children, adolescents, pregnant or breastfeeding women.
Do not store above 25 °C.
Ingredients
Dicalcium phosphate, Sodium hyaluronate, Gelatine (bovine, halal), L-ascorbic acid (Vitamin C), DL-alpha-tocopheryl acetate (Vitamin E), Beta-carotene, Calcium-D-pantothenate (Pantothenic acid), Magnesium salts of fatty acids, Zinc carbonate, Silicon dioxide, Iron oxides and hydroxides, D-Biotin, Sodium selenite.
Reviews
No ratings have been submitted yet. Submit your first review here.