Doppelherz aktiv Vitamin D3 2000 I.U.
glutenfree
lactosefree
Vitamin D3 2000 I.U.
Vitamin D for a strong immune system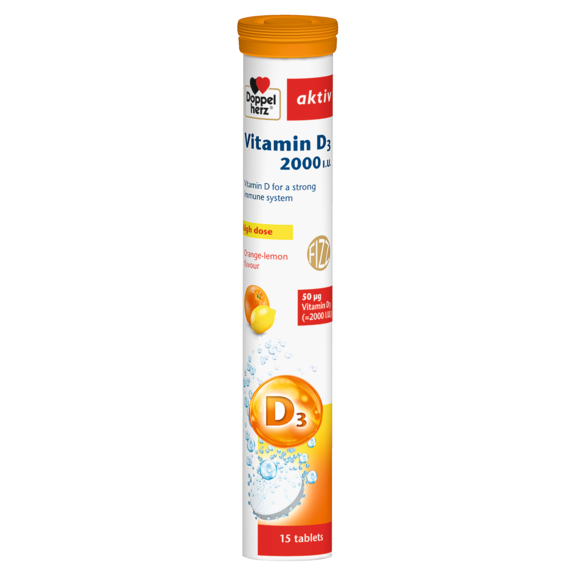 ---
Effervescent tablets with Vitamin D
with orange-lemon flavour
50 µg Vitamin D3 (=2000 I.U.)
glutenfree
lactosefree
---
Recent research has shown that vitamin D has multiple functions for health. Nevertheless, many people ingest it in too small amounts with food.
Doppelherz aktiv Vitamin D3 2000 IU capsules contain 50 µg Vitamin D3. This corresponds to an amount of 2000 IU (international units) of vitamin D.
Vitamin D the "sun vitamin"
contributes to the normal utilization of calcium 
helps maintain normal bones and teeth 
contributes to the maintenance of normal muscle function
contributes to the process of cell division and normal functioning of the immune system
Already a single capsule of Doppelherz aktiv Vitamin D3 2000 IU ensures, in conditions of high demand and lack of own production, an adequate intake of vitamin D, thus contributing to the health of the body and well-being.
Composition
| Ingredients | per effervescent tablet |
| --- | --- |
| Vitamin D | 50 µg |
Consumption recommendation
Take one tablet daily. Dissolve in a glass of water (200 ml) and drink.
 
Note
Do not exceed the stated recommended dosage! Food supplements should not be used as a substitute for a varied diet. The product should be stored out of the reach of children. Do not store above 25 °C.
Ingredients
Acidifier Citric acid, Sodium hydrogen carbonate, Maltodextrin, humectant Sorbitol, Inulin, Sodium carbonate, Starch, bulking agent Tricalcium phosphate, Flavouring, Sweetener Sodium Cyclamate, Cholecalciferol, Sodium saccharin, Beetroot juice concentrate, Colour Riboflavin-5'-phosphate
 
Reviews
No ratings have been submitted yet. Submit your first review here.